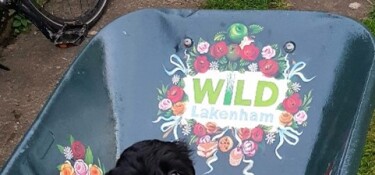 Latest News
Published on 30th October 2023
A Wild Year in Lakenham
Community Group Wild Lakenham celebrate their first anniversary, progressing from a community clean up to an enthusiastic community group with exciting plans in just one year!
A year ago, Lakenham residents Lucie and Bek decided to organise a clean-up around Cooper Lane. This event was such a success they went on to organise regular litter picks on the Lakenham Way and around St. John's Church. Creating a Facebook group to promote these picks, they quickly grew to over 200 members. And here at LUMi we're always delighted to support groups like this, lending them litter picking kits on a long-term loan to help meet the increased demand.
Fun is the secret to success, Wild Lakenham ensured anyone coming along to help at a litter pick also had fun, by turning a wheelbarrow into a "Treats Trolley" to serve home-made cake to volunteers. And by encouraging people to nominate their litter pick "Find of the Day" on Facebook, with winning finds including broken sunglasses, toy cars and a rusty motorbike. A £10 note was even found on a litter pick becoming the first donation to Wild Lakenham's new bank account!
The next step was for Wild Lakenham to set up the bank account so they could apply for grants and fundraise. Adopting a constitution and policies to help them and their volunteers work safely. Norwich City Council awarded a £300 Get Started grant to help the group with costs such as marketing and purchasing equipment. The group were also given funding from the UK Shared Prosperity Fund via Norwich City Council to cover the cost of the first year's public liability insurance and training courses for volunteers. And by joining the Norwich Outdoor Projects Network they have been able to learn from and share information with other local community groups.
As well as litter picks, the group run free events for local families. Over the last year, they have run a "Wildlife Walk" in Cooper Wood with local YouTuber Liam and a "Bat Walk" with Norfolk and Norwich bat group. Using bat detectors, they discovered five different species of bat.
In the future, Wild Lakenham plan to restore an old orchard near Cooper Lane. Last July, they signed a licence agreement with the Norwich Fringe Project to get permission to work on the site. The group intends to plant local varieties of apple trees and are learning how to maintain an orchard with help from East of England Apple and Orchards Project.
To make these exciting plans happen, Wild Lakenham have been fundraising and applying for grants. In the summer, Lucie and her family took part in Run Norwich and raised over £400. They have asked local businesses for help, resulting in Wild Lakenham shirts getting printed for free. They are also awaiting for the results of an application to the Awards for All fund. Committee member Avril says: "To be granted this would be the icing on our Wild Lakenham cake!"
Members say that the group helps them to meet new people and make friends, especially if they have recently moved to Lakenham.
"I've met neighbours that I didn't know before and they are now friends. I'm delighted to be part of this enthusiastic and energetic group" and "It's good to get out in nature, "thanks for the organising – and the cake!"
To find out more and how to join this awesome group, check out their Facebook page: Wild Lakenham and if you need some help and guidance to help get your fabulous idea off the ground, contact Norwich City Council's community enabling team on: community@norwich.gov.uk