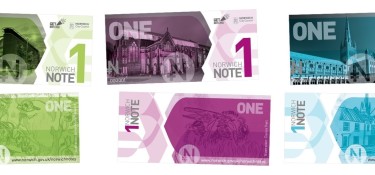 Latest News
Published on 28th February 2019
Creating note-worthy volunteering opportunities
Making small changes to your volunteer offer can be time well spent.
It's fair to say there's likely to be as many different reasons why people find volunteering rewarding as there are volunteers. Research into what people love about volunteering often shows that the social aspects rank highly alongside things like wanting to make a difference and learn something new.
What is common among volunteers is not discovering what you get out of volunteering until you've given it a try.
Hmmm… this is important, people often can't see the benefit of volunteering before they've done it. So if people don't appreciate what they'll get out of volunteering until they've given it a go: how do we encourage people to give volunteering a try and how can we ensure that their first experience is a positive one?
Incentivising first steps? Take note!
The contribution of community organisations and their volunteers to the wellbeing of our neighbourhoods is significant. The transformative force of the right volunteer with the right skills in the right role can be huge; so how do we treat every opportunity to recruit a new volunteer with the same value which that opportunity represents?
If we accept that everyone is different and we won't know why a new volunteer will find your offer rewarding until they're in it, we need something to incentivise those first steps into giving time to an organisation that has both a universal value and offers a reward that is as individual as your volunteer is.
We need incentives to try volunteering that are as vibrant and diverse as our communities.
Norwich Notes aims to do exactly this; the paper community currency offers a whole range of hour long incentives for every hour given to an organisation by a new volunteer. The scheme launched in February and is already offering incentives as diverse as lunchtime concert tickets through to an hour in the gym; there's even an hour of car hire among the options for people giving volunteering a try.
Cultivating a culture of value
It's important that we don't lose sight of how important those first volunteering experiences with an organisation are for someone taking new steps into a new volunteering role. Ensuring someone feels valued within your organisation is about more than a community currency alone and delves a lot deeper into the culture of everything that you do.
Incentives to try volunteering are the easy bit; cultivating a culture of value is the challenge with the truly transformative outcome.
Maybe the most challenging thing about cultivating a culture of value is that it starts with what is already there; the people and culture already alive in your organisation. This is why every Norwich Notes partner organisation is asked to identify existing volunteers who would make great peer mentors. A peer mentor is someone who knows the ropes as a volunteer within an organisation; they'll know how things work, where things are and the other people within the team. Norwich Notes does train these existing volunteers in peer mentoring, but it's that act of valuing their existing experience that's the key bit.
Community organisations are a magic mix of skills and experience that together make things happen; the first step is to celebrate this!
Norwich Notes aims to offer incentives to try volunteering that are as vibrant and diverse as our communities, whilst supporting community organisations to offer outstanding volunteering opportunities with the aid of peer mentors. The scheme is initially rolling out in Lakenham, Heartsease, West Earlham and Mile Cross. If you're a community organisation who delivers or would like to deliver physical activity sessions in your neighbourhood then Norwich Notes could be a scheme for you!
For more information:
Norwich City Council details about Norwich Notes: https://www.norwich.gov.uk/norwichnotes
The Norwich Notes project officer can be contacted on: mailto:danharris@norwich.gov.uk