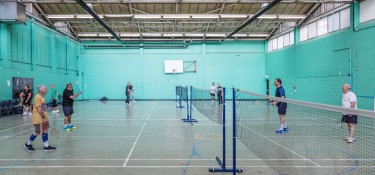 Latest News
Published on 20th February 2018
Masters of our own future
How passionate residents fought for and saved their sports centre
Travel back to 2010 and you will find Wensum Sports Centre Norwich, tired run down and under threat of closure. That was until local resident Doug Poynton came upon it. Angered at the injustice of the community losing a valuable facility Doug along with Roger Mason, Bill Glover, John Jewell & Tony Poynton joined the neighbouring Friends of Wensum Lodge Charity.
Together they kick-started their campaign to save the centre. Starting what proved to be a long and life changing campaign fighting Norfolk County Council to save the building and transfer it to the community to run.
Things initially didn't go to plan. But determined despite knockbacks the group refused to give up. Finally their efforts were rewarded in 2012 with the keys to the building! Work could at long last begin to bring the Centre up to standard and build a team of dedicated volunteers who would soon prove to be the heart of the project.
Here we are seven years and many trials and tribulations later and you will find an established independent charity running a vibrant and ever developing sports centre.
What learning can we take from this?
Their secret it seems is tapping into the passion and skills of local people building a strong core group. Speaking rather humbly Doug dismisses this as simply understanding what motivates people, "playing squash, gardening, it's no different". But it is this wisdom that sets Wensum Sports Centre apart.
Understanding people's passions is reflected in the committee's wise culture of investing in their staff and volunteers.
Actively encouraging emotional connections with the centre. Volunteers have a say in its running and its future. This is reflected through people like Sarah Medler once a volunteer and now the centre's Manager. Or Jeff Hulst who runs the car park but also created a sports focused garden, helping to snag a Norwich in Bloom award.
In the meantime Doug continues to be driven by his passion and belief in the centre and the benefits it brings to the community. Reminding us that we are "Masters of our own future".
For more information: